greek cyclades: santorini, paros & naxos
Opa!!!
Greece has been calling the Penaranda sisters' name for many years, from the Sisterhood of the Traveling Pants movies, Pins of Santorini, the annual Greek Festival in Oakland, and the rich history! Laura had been studying in the Netherlands for a semester and had not felt true, warm sunshine since leaving California, so she was craving a beach. We ended up choosing Greece based on cheap flights, a bit of wanderlust, and to try to get off the beaten path for a few days. Visiting the different islands helped us plan a more affordable trip and let us switch off between sleep beach towns and touristy Santorini! Note we did take this trip in 2015 before the financial crisis; friends have been to the Isles since, specifically Santorini and Mykonos, since and find it touristic and busy. Read on to figure out how to get there, where to go, and WHAT TO EAT!
I hate to admit that most of my "knowledge: on traveling in Greece was mostly from watching the Sisterhood of the Traveling Pants movies where we watched a sheepish Lena (Alexis Bledel) vacation in the small community of Oia. So let's start at the beginning of our journey to point out some of the CLEAR differences from the movies and a lot of tips and ideas of what to do for when you really make it to Oia and realize Kostos is not at the fish market.
How to pick islands and plan your itinerary:
Ferries frequented Santorini, Mykonos, Paros, and Naxos the most. There are other islands like Milos and Ios that are more remote and for the reason that the ferries have limited stops per week on those islands and that the fare to get them is much more expensive! So Greek Isles on a budget meant that we had to pick a few of the popular ones and balance out our trip. Santorini, Oia specifically was a must and we wanted to get a feel of the other more affordable islands so we chose Paros and Naxos. Mykonos sounds like a good time but we were going for time on the beach and chilling!
How to get there:
-Athens → Isles via Ferry. The ferries allow for island hopping.
-Athens & International Cities → Santorini via plane. Santorini has an airport and if Santorini is your main bucket list place and you're rushing to get there, then plane may be the way to go!

In the movies, Lena takes a dinky little ferry where she is seated next to chickens and people in traditional looking garb and the sea makes the boat bob up and down. I had previously lived on a rural island in Turks and Caicos and realized this Hollywood depicted ferry could be a reality. I was prepared for a long bumpy ride, sitting outside in the elements. So when we arrived at the port and there were only cruise-sized ships, I was shocked! There was no traditional garb, but lots of Michael Kors resort-wear and maxi dresses for days. The BlueStar line ferries are super spacious, comfortable, and so big that you don't feel like you are on the water unless you step outside on the deck. It takes a while to get to Paros or Santorini, but I would say worth it! There are "speedy" or expedited ferries that claim to cut the boat time in half and we took one back from Naxos to Athens. The ride was horrible because it was on a smaller boat and it was two and half hours late so take the bigger, cheaper ferries like BlueStar that are more likely to stay on a schedule!
Paros has gorgeous sandy beaches and that light blue water! Be warned it's definitely chilly! But on a warm day, it's the perfect temperature. We were on Paros for 3 days. One day we rented a car from Athina Rent-A-Car, a local shop in town, to drive around the island! A lot of people were on ATVs but we decided on the car and explored the island! Found a few quiet beaches and enjoyed the sun!
Another day we hiked around Krotiri Bay to church on the point across from the town! It's actually where the owners of the inn we stayed at got married! There is a trail and you also pass a few beach clubs.
We also spent an afternoon in Paros town, where there are a bunch of lovely shops ranging from leather products like purse and sandals to art to resort wear. And of course lots of gift shops. I do have some regret over not buying a "Hella" towel!
What to Eat:
-We are saving our dough for Santorini! Made breakfast sandwiches to eat on the beach, and packed picnic lunches for the day on the road.
-Traditional fish markets on the water ranging from casual to white table cloth!
-Definitely enjoy an afternoon coffee in town and people watch.
Although Naxos is the largest island, we ended up taking Naxos to be a beach island. We stayed in the town of Agios Prokopis, which was slow town central but sleepy in a good way. I would suggest 2-3 days here as the main things to do are have traditional greek breakfasts, go to the beach and tan, swim, tan, eat dinner and have a drink, then do it all over again. Definitely lacking night life, so if that's what you are looking for, try Mykonos and I think you'll be stoked!
We explored the local area by foot but a lot of other tourists rented a car to find remote beaches or ATVS to explore the island. I am not a huge fan of ATVS because a lot of people "off-road" and are messing up natural habitats and also, it freaks me out being exposed when it seems remote to get help in case of an accident. Car, ATV, or just walking, always be careful!
What to Eat:
-Greek yogurt, lots of it! We stayed at a family run inn where the owner and her mom made fantastic breakfasts.
-Ice cream on the beach
-Hit the local market to eat like a local. Plenty of meats, cheese, bread, and olives to keep one full. We did eat pizza here and were impressed!
Where to Stay
-Oia! Yes, it's a touristic town, but in the best ways. There are options for eating out, it's walkable, and it checks all the boxes of what you think a Greek town will look like. But the top reason is the sunset. Each evening people flock to Oia to see the sunset over a clear horizon. The town is lit up to a beautiful pink and it is pretty magical. There is not a lot of nightlife, so ideal for people looking for a getaway. The hotels here are EXPENSIVE! They are catering to honeymooners and wealthy travelers, so you'll need to shop around. Your room may not have a view of the caldera (the water), but within a two minute walk, you can see it.
-Fira: Looks like Oia, but accommodations are more affordable. It is central to the middle of the islands so you can get around the island.
-Black Sand Beach: definitely the most affordable but further away from what you may expect.
Where to eat:
-LOUYO, Frozen Yogurt, Fira: This is currently the World's best frozen yogurt! We are from California where the yogurt thing took off but nothing compared to the thick, cream, Greek style frozen yogurt at Louyo! We went everyday and they recognized us… Seriously I have not found a better frozen yogurt. And you get to put your own toppings on!
With a View of the Caldera in Oia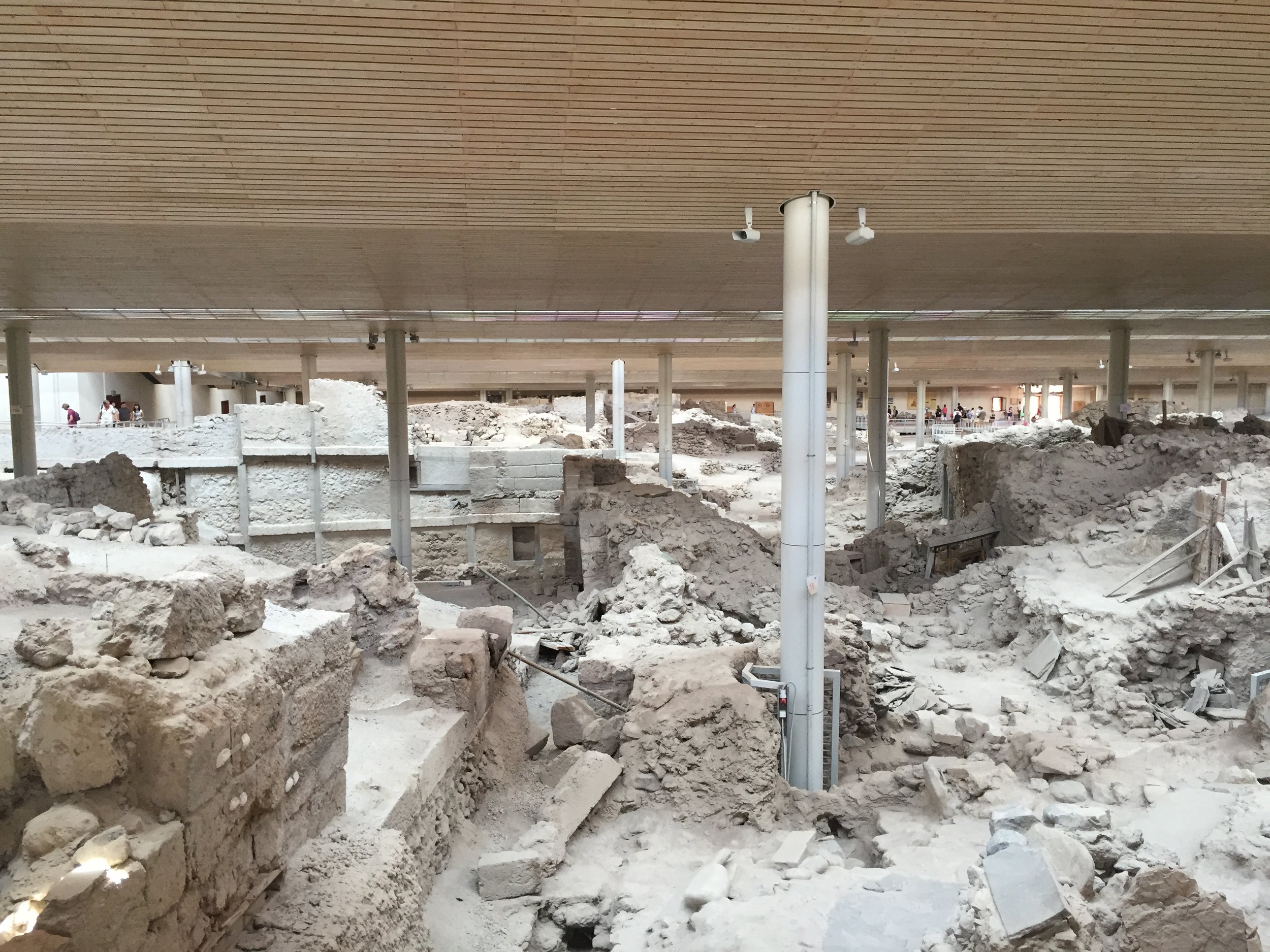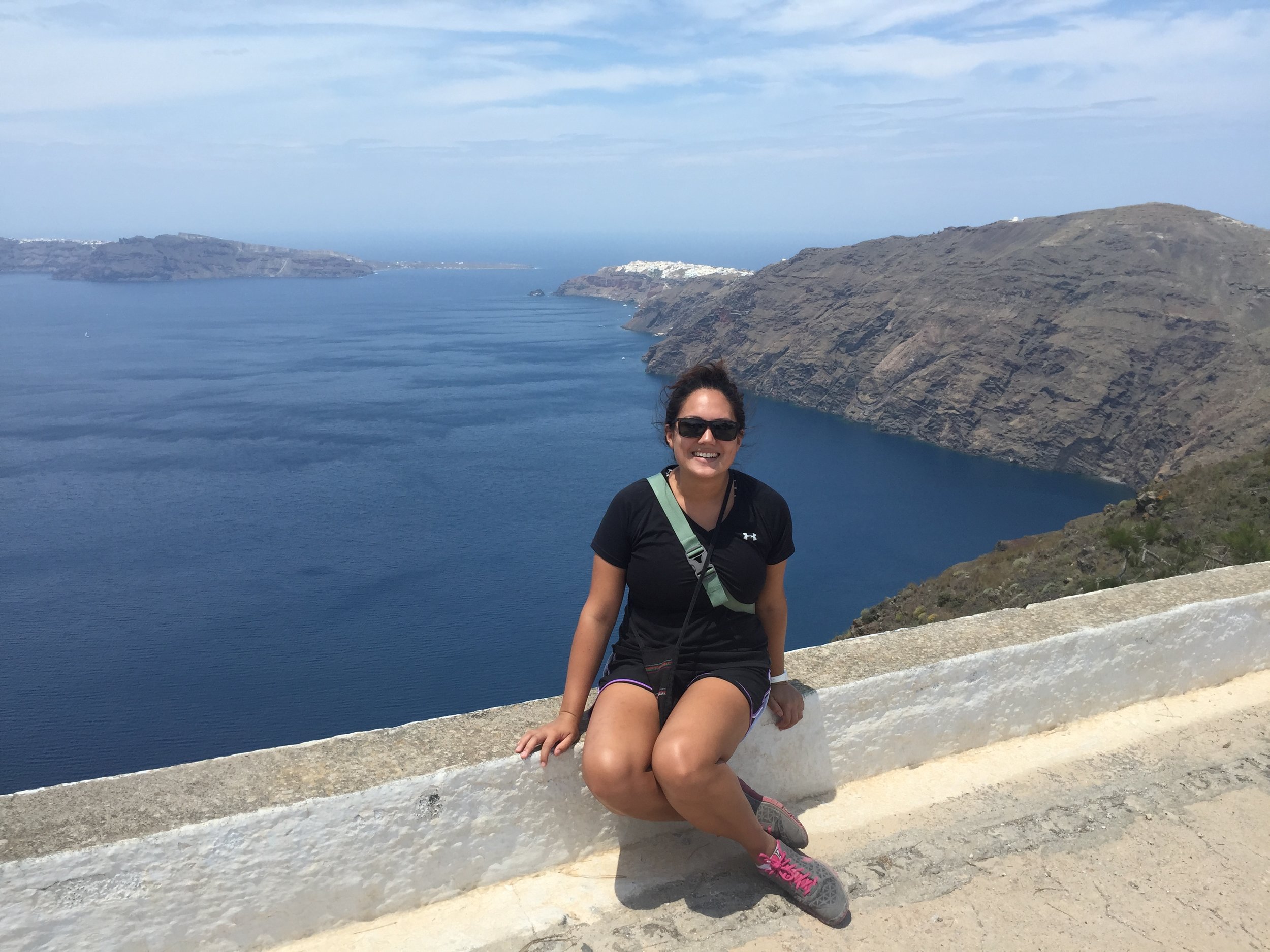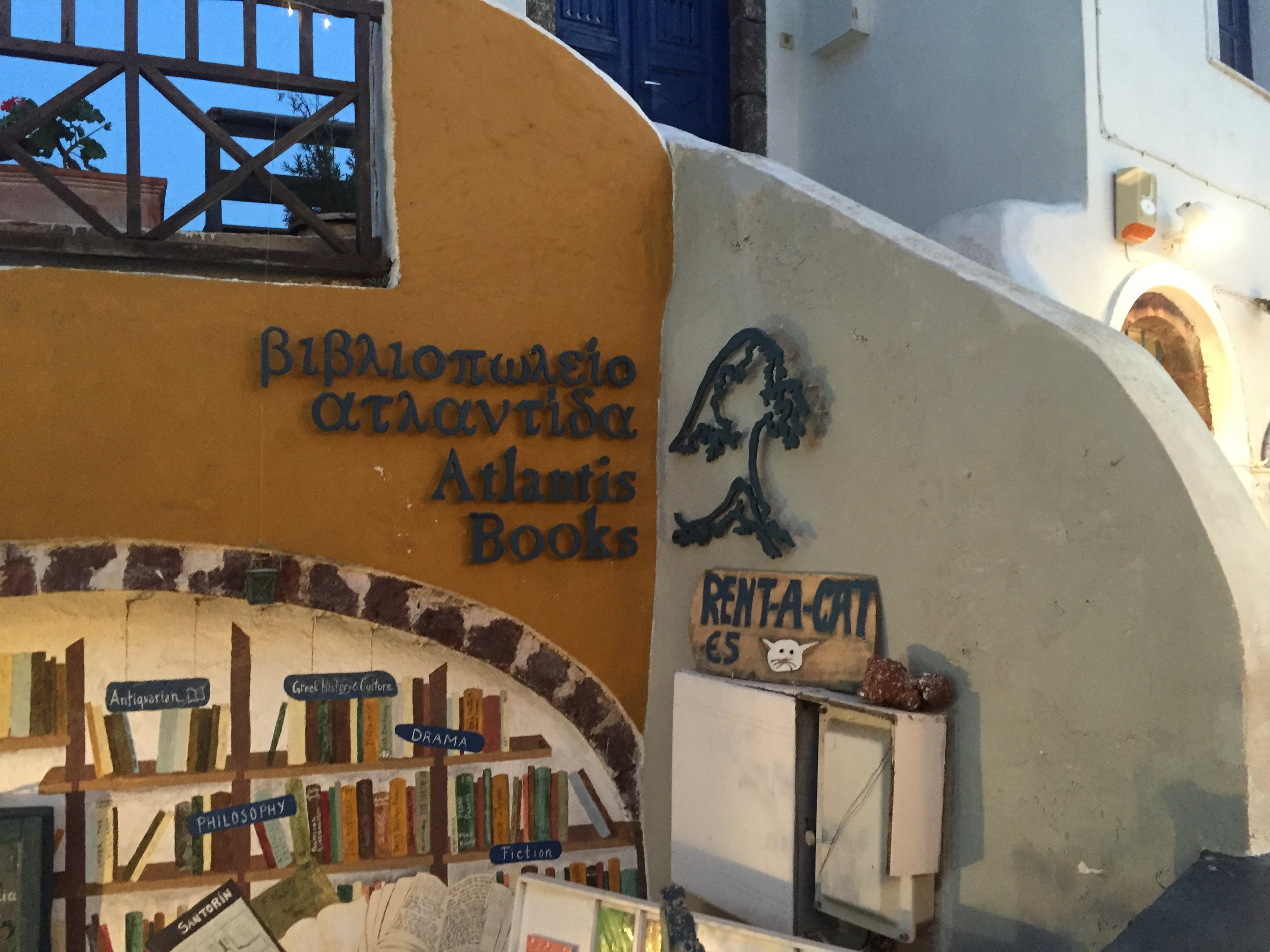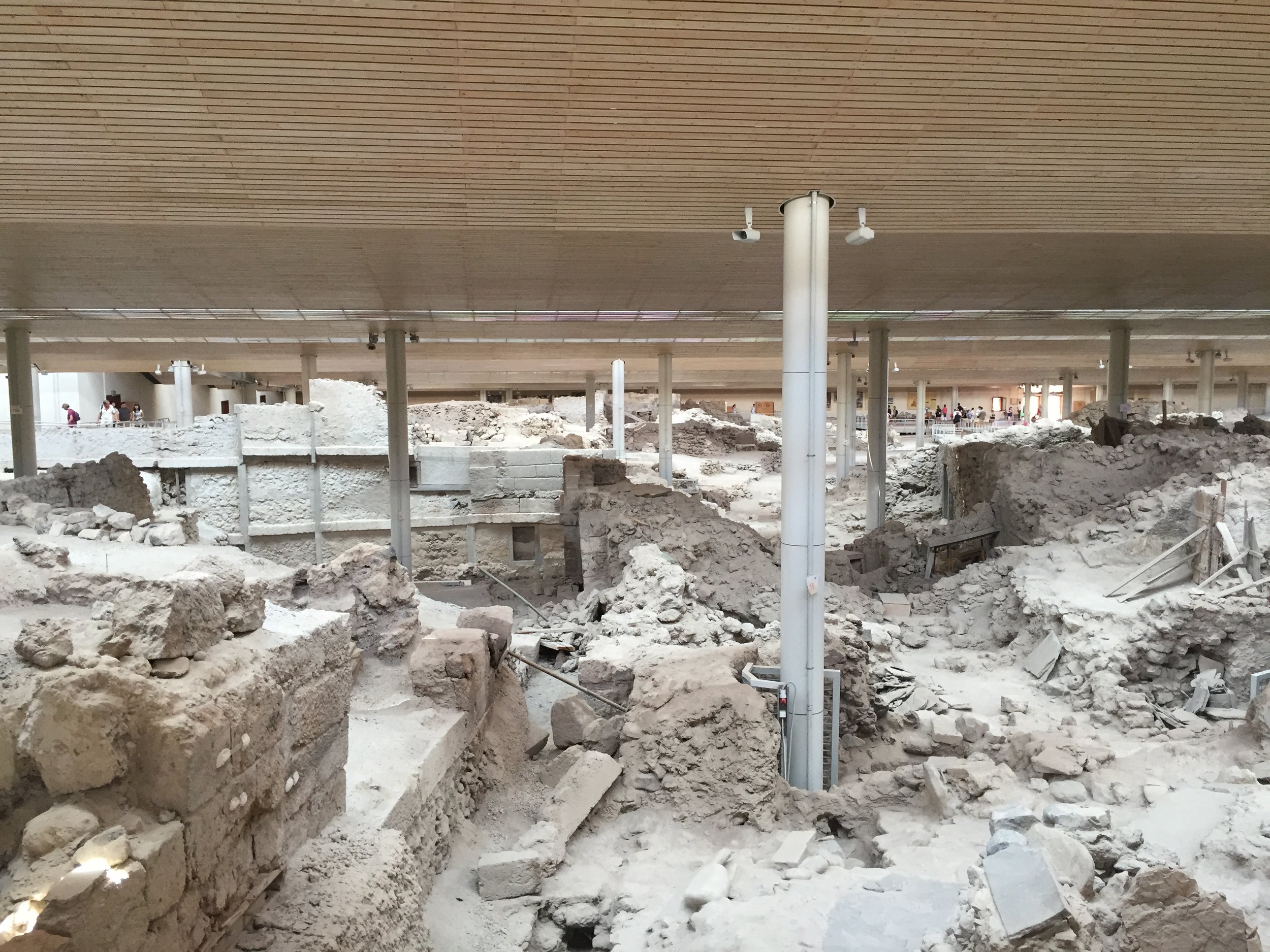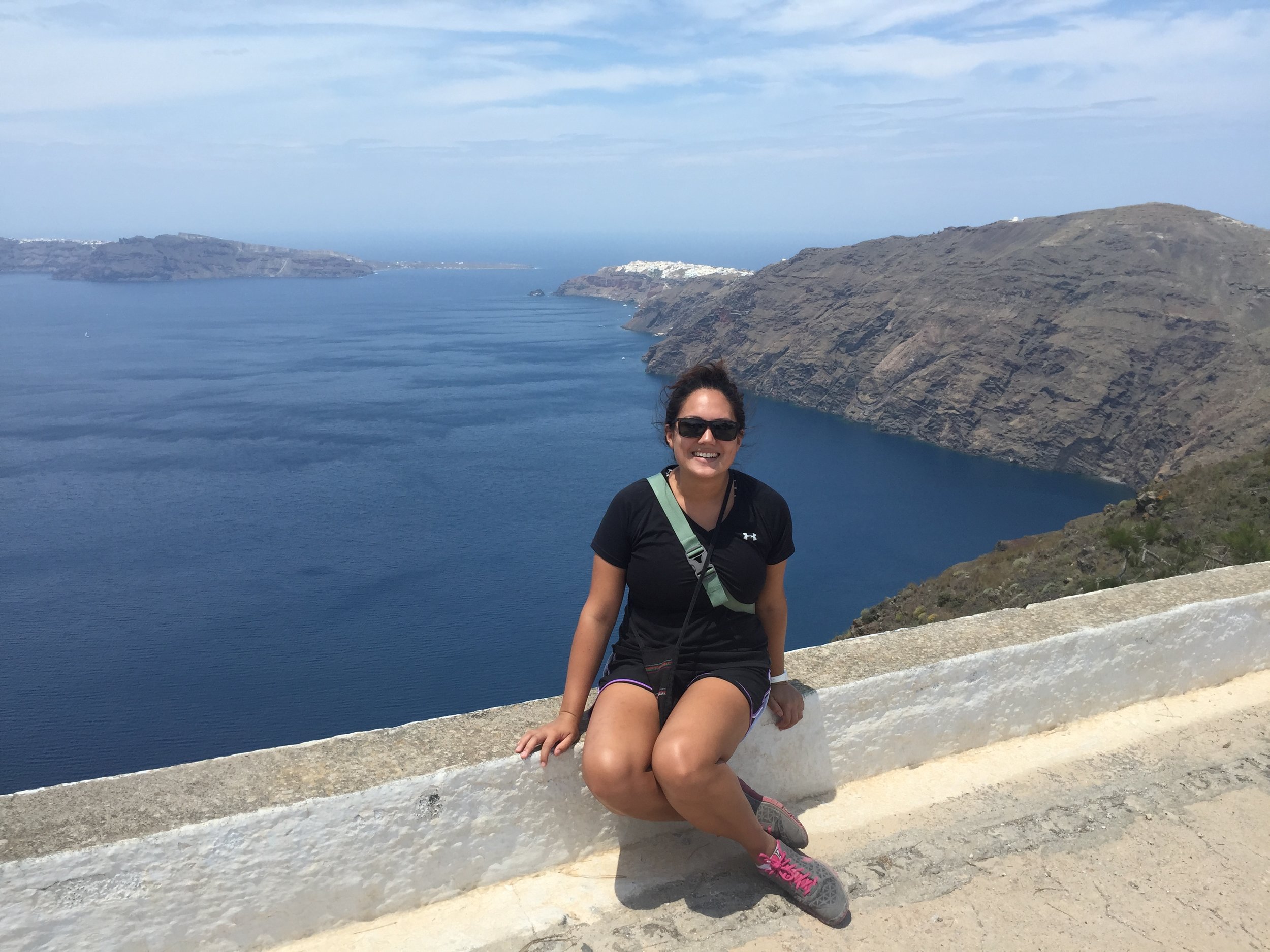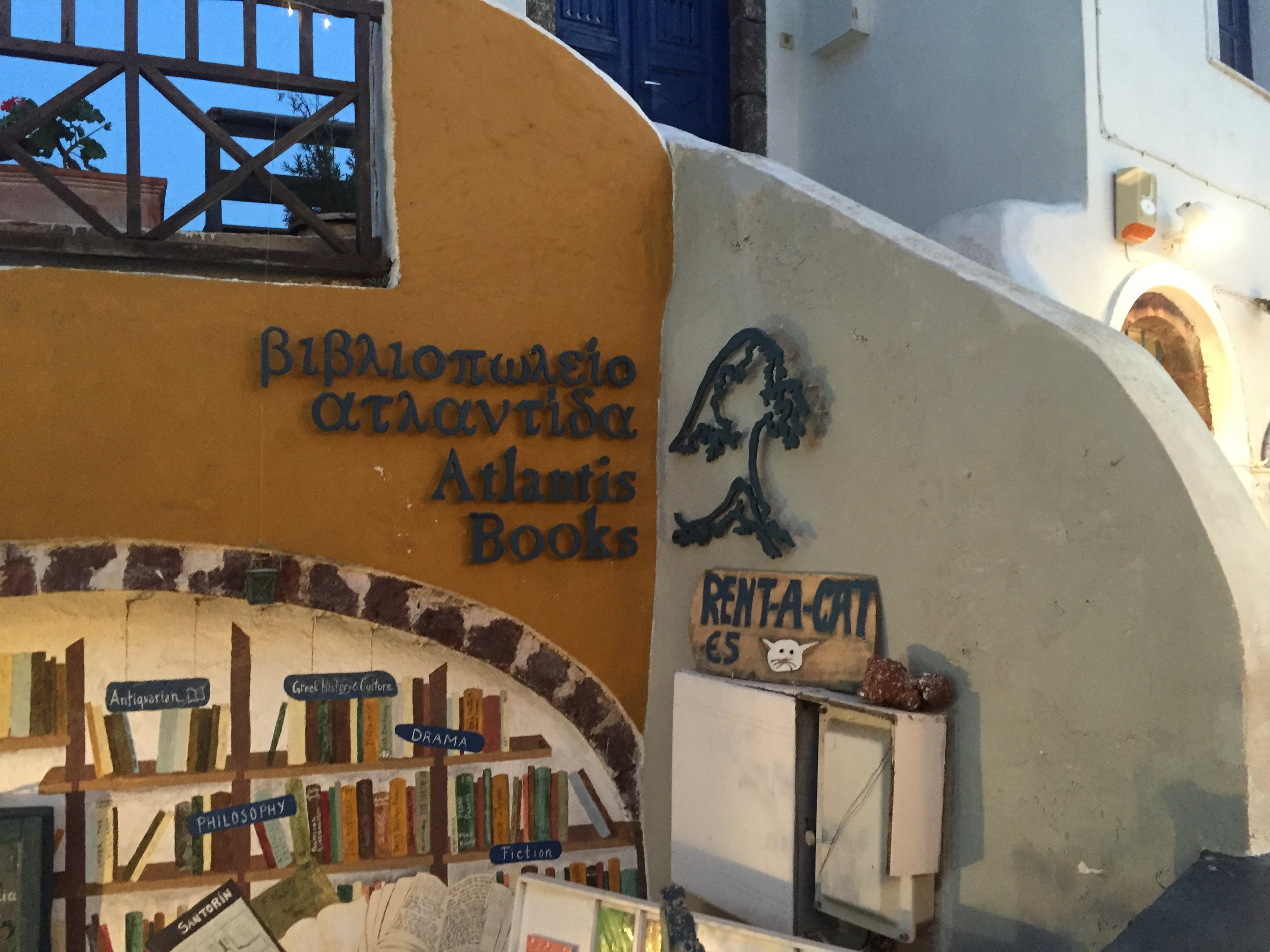 -Thalami & Skala: These two restaurants are slightly upscale Greek restaurants! They are right next door to each other--Skala has a better view, but Thalami has better food! Seems like that's always the case.
-If you are living large (and we were not), there are 4 seafood restaurants on the water at the bottom of the hill. You can take a donkey ride (no thank you), walk, or take a taxi to the bottom of the hill. Likely need a reservation.
-Το Φουρνί Bakery: we came here one day for a snack and this is where Laura got the biggest doughnut! And where all of the locals cut us, but it's chill.
Where to Explore:
-Walk from Oia to Fira or vice versa!
-Walk from Oia to the bottom of the caldera! Explore the water line and the small Bay before heading back up the hill via donkey or many many steps!
-Archaeology Museum
-Fira & Oia both have a lot of shops, churches, and little historical things tucked away.
*Public Shuttles, ~2.5EOther options: rent cars, get a taxi, or rent an ATV.
STTP forever #sisterhoodofthetravelingpenarandas